Click here to Donate (USA and Int.)
To make a donation via check using regular mail:
1) Click on below envelope to download contribution card
2) Prepare a check payable The Xingu Mission or Xtreme Mercy
3) Mail the check and contribution card to the following address: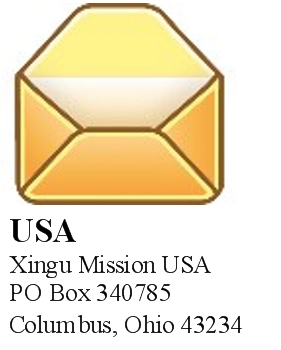 Amazingly, God has blessed me by allowing me to serve once more with the Xingu Mission!
I am currently living in Portel, serving with Missão Marajó. We are planting a church here, currently with 30-40 regular attenders. The base leader, Richie Bouthillier, has identified Geaze as a leader and potential senior pastor. He is being trained in Vineyard values, and serving as assistant pastor. We've broken ground for the building, and are hoping God provides enough funds to complete it quickly. We are currently meeting in a small CDR classroom, which is bursting at the seams!
I was able to help immediately with the accounting for the base, and continue to do some accounting/reporting for the mission as a whole. I am asking God to show me other areas where He wants to use me.
Please consider supporting our church planting effort, and helping me be able to stay for the long term. You may contribute to the Portel Base or Patty Fultz Ministries by choosing the menu item Opportunities and then Giving. Above all, I covet your prayers…for my continued health, spiritual maturity, and usefulness in God's Kingdom.
Email: Patty Fultz
Blog site: pattys-pondering.blogspot.com
Mailing address:
Missão Xingu Portel,
CP 18, Portel,
Pará 68480.000, Brasil