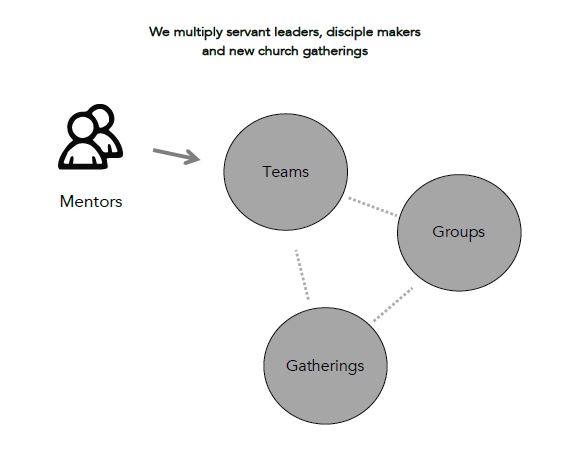 ---
Ghibeau is the editor of a peer-learning community of people who are launching Disciple Making Movements. They define a Disciple Making Movement as a group who are planting 100 new churches every 2-3 years, with groups starting groups down to at least 4 generations.
http://www.accelerateteams.org/index.php/our-guidebook
We met for lunch with Ghibeau while we were in Johannesburg. I asked Ghibeau if he meant 100 new groups, or 100 new churches, and he responded like this. "Sustainability is the key thing. It has to be a sustainable, growing movement. So what do you think would help your group be the most sustainable?"

This diagram can be found at
http://www.accelerateteams.org/index.php/our-guidebook
Jesus came as a mentor. Some of us are in mentor roles. We send out TEAMS of two to find People of Peace, to start GROUPS. These groups need to form into GATHERINGS to remain alive. The GROUPS themselves will fizzle out if they are not formed into GATHERINGS (churches). These GATHERINGS are groups of people who are obedient to God's Word (instant obedience) and they tell their friends (rapid multiplication). The GATHERINGS become resource centers who send out TEAMS that start GROUPS. The process is not strictly circular. For examples, GATHERINGS can start GROUPS or GROUPS can send out TEAMS.
The important thing about this diagram is the importance of church-planting for long-term sustainability. This is our conviction in Brazil. Healthy churches transform communities and last for generations. Our best hope to help the underprivileged is to start healthy churches in their neighbourhoods.
Powered by WPeMatico